Fall is always a busy part of the year for us… sooo many holidays. And it doesn't end there. Because in my immediate, little family, we celebrate all 4 of our birthdays in a SHORT 3 1/2 month span. Now, I know that doesn't sound too bad… It works out to about 1 birthday a month. But, I'm a little bit of an OCD-DIY-crafter, who is the matriarch of a family of Disney crazed individuals. That means I plan BIG theme parties. And my motto is… go BIG or go home! So, birthday planning / creating usually takes me a good part of a month. Now, mix in the added chaos of Thanksgiving, Halloween and Christmas, and I have a full-blown hurricane of holidays.
My Little Cars Superfan
Our youngest, little Hudson is turning 3 this year. And even though Hudson is a lover of all things Disney, just like the rest of our family. Hudson really is a Disney Pixar Cars superfan! It could be that Hudson was predisposed at birth to being a Cars superfan because of his name (even though he was in fact named after an airplane). But whatever the reason, he has always been car crazy. That's why when Hudson turned 2, his birthday them was Disney's Cars… and now that he's turning 3, In spite of my best efforts to change his mind, we're having a Cars birthday theme party AGAIN!
So because we're doing cars themed birthday party for the second year in a row, I figured I'd save myself a bit of work and reuse some of my previous party ideas. Why reinvent the wheel, right!? While looking back at all of the party pictures from last year, it made me remember how much fun that party was. So, I thought I'd share some of my ideas and pictures from our last Cars party.
Cars Birthday Theme Birthday Party Decor
Last year, for Hudson's Cars birthday theme, my vision was to make our home look like Radiator Springs. All of the party decorations were created either with my computer and photoshop or by doing some old-school crafting. As I didn't have my Cricut yet.
Using posterboard, I transformed our cars into life-size living looking Cars characters. It was a bit of a challenge to cut everything out to the appropriate size. But somehow I managed and made it work.
Using photoshop, I created a custom "Welcome to Hudson's Birthday" poster, which was a spin-off of the "Welcome to Radiator Springs" sign. I posted it at our front entrance to greet guests as they came in. I also made sure to have lots of orange road cones, road signs, cacti, and checkered race pattern as party accents.
Out of all the party decorations, my favourite part was probably creating a large cardboard cut-out of the Tow Mater tow sign. I bought wheelbarrow tires to complete the sign. And used tinfoil to fashion a hook.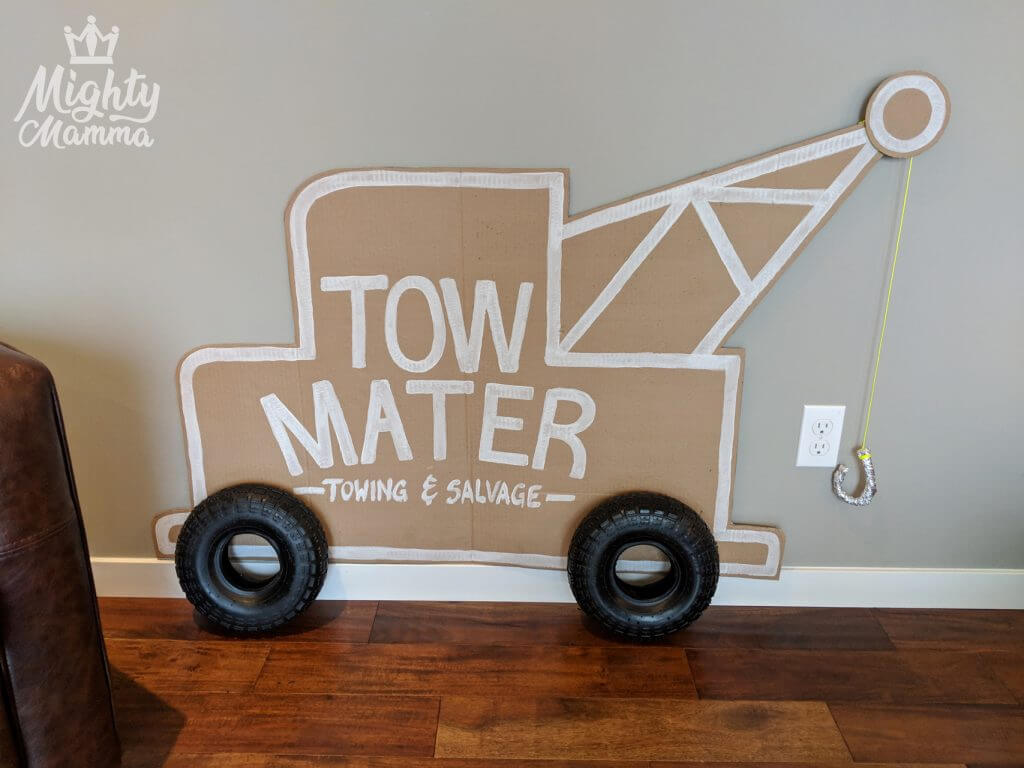 Milestone Birthday Poster.
Like I do every year, I created Hudson a second birthday milestone poster. At the end of every birthday, we always take the poster and hang it on the kid's bedroom door. They love looking at it for months afterwards.
Flo's V8 Cafe – Cars Birthday Party Eats
For food, I took some menu items directly from the menu of Flo's V8 Cafe in Disney's California Adventure. Our guests were treated to chicken fenders (chicken tenders), Ka-chow Cheeseburgers (hamburger sliders), along with some of my own creations. We had so much food and so many treats, such as rice crispy road lights, Luigi's tire tower (little and large donuts), Tow Maters Pa-tater chips, and other must-have party food (fruit, veggies, cheese, etc). Each food item had its own Cars character food tags. I also turned bottles of pop into Rust-eze Bumper Ointment and put sticker eyes on red solo cups to make them look like Lightning Mcqueen.
I am including my Cars Food tags as FREE printables at the bottom of the post. So read on!
My Cars Cake
I always bake and decorate my own cakes. For Hudson's Cars birthday theme I made a large 3 tiered / 3 flavoured cake. This has to be one of my favourite cakes that I have made. I decorated the cake using marshmallow fondant. It also had diecast Cars characters as accents. My husband and I had purchased the diecast cars on a previous trip to Disneyland. They were kept hidden away so they would be shiny and new and clean for the cake. If you want to see the process in which I decorate my cakes, check out my blog article on how to decorate your own cake, here!
Cars Party Games
Now I find it hard to entertain my kids at the best of times. Add more kids into the mix + cake and sugar and it doesn't take long for all the little party-guests turn into feral little beasties! So sometimes finding an activity to keep all the party-goers entertained can be kind of tricky. Especially when some of them "literally" have the attention span of a 2-year-old!
One of the party activities for Hudson's Cars birthday theme party was decorating cardboard cars. I purchased the cars from Etsy. Before the party, we folded all of the paper cars. The kids then decorated the cars with a variety of different stickers. It was an easy enough craft and provided entertainment for a while.
I also purchased a fabric "road" runner which we placed on the floor. The kids had a ton of fun racing cars on it. Along with the car races, we did a ball toss game with the wheels from the cardboard Tow Mater sign that I had made. I also had Ramone's Body Art Studio, which was a temporary tattoo station. Somehow I missed getting photos of the ball toss game and the tattoo studio.
Party Give-Aways
I always like to create homemade items for the guests to take away as party favours. Cookies always seem to be a BIG hit with everyone. So I baked a bunch of cookies and decorated them with royal icing in Cars theme designs. I also made personalized Carborater County keychains. To do this, I used my computer and photoshop. I printed then my designs onto plastic shrink photo paper which I shrunk in my oven to a nice keychain size.
All in all, I had a great time at the party. I think Hudson and all his guests had a great time too! Now hopefully, Hudson's birthday party this year also goes just as well!
Free Cars Birthday Theme Printables
If you're planning on doing your own Cars Birthday theme, you can use my free food tag printables. The tags are for personal use only and are not to be sold. The tags are divided into 2 pages. Each page contains 4 tags with 4 different characters that are blank for you to add your own names to. The pages print onto a regular 8.5 x 11 size sheet of paper.
Click to download Cars food tags sheet 1, Cars food tags sheet 2
As always, if you liked this post the biggest compliment you can give me is to leave a comment or share it with your friends. Also find and follow me on Facebook, Pinterest, & Instagram. If you like my blog and don't want to miss any future posts, sign up to for my email.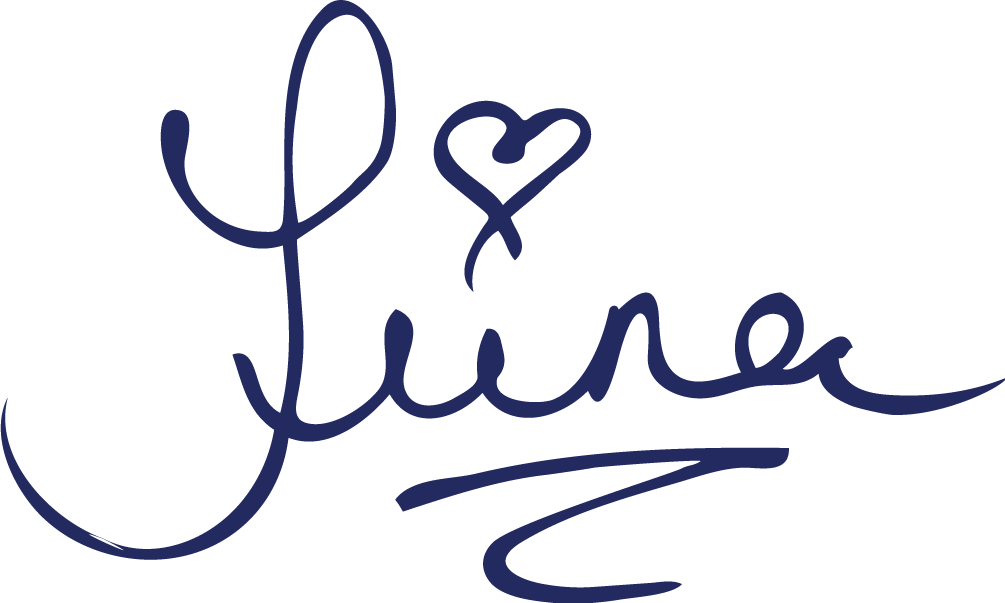 (Visited 5,800 times, 1 visits today)